The English team captain Ben Stokes took to social media to seek help after missing his luggage after a British Airways Flight. The all-rounder recently inspired his team 2-2 against Australia in the 2023 Ashes after trailing 0-2. He expressed his concern through a post on Twitter, where he also tagged the official handle of British Airways. The airline immediately responded via the comments section and vowed to assist the cricketer with his issue.
"Bags not turned up off the plane @British_Airways and help would be greatly appreciated," Stokes wrote.
Ben Stokes has had plenty of time to recover from an intense five-match series, which ended in a thrilling contest at The Oval followed by a meeting with the Australian team at a nightclub. The two teams were expected to celebrate in his dressing room at The Oval after the series, but a suitable time could not be found, leading to a change in schedule.
Since the all-rounder is no longer involved in ODIs, he will use this time to take care of his sore knee. He featured mainly as a batsman in the series due to a knee injury and scored over 400 runs in the series, including a brilliant century in the fourth innings at Lord's.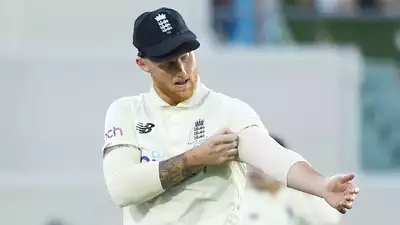 Also Read: He Gets Very Limited Credit for The Way He Bowls – Aakash Chopra Praises Shardul Thakur
"Who knows if we can do it against India, only time will tell" – Ben Stokes on whether Bazball will work on the subcontinent
Ben Stokes next international red ball assignment will come in the form of a five match Test series against India away from home in early 2024. While England won two test and drew one against the defending Test champions, they were awarded only nine points for their efforts after 19 points were deducted for a slow over rate during the series.
England have lost 4-0 and 3-1 on their last two tours to India, but remain the last team to beat them in the subcontinent commenting on wheather the aggressive approach would work in India as well, Stokes said during the post match press confrence:
"I remember when we beat New Zealand 3-0, (the chatter) was we couldn't do it against South Africa, (we) couldn't do it against Pakistan, (we) couldn't do it against Australia. So who knows if we can do it against India, only time will tell."
England will host New Zealand for a white-ball series from August 30, starting preprations for the ODI World Cup. Both the team will also start the tournament in India on October 5, 2023 at the Narendar Modi Stadium in Ahmedabad.