Bangladesh women's team captain Nigar Sultana has lashed out at Indian women's team captain Harmanpreet Kaur after she censured the umpire during the series. Bangladesh women's team also went out of the series. The third ODI between the India women's team and Bangladesh women's team ended in a draw at Shere-e-Bangla National Cricket Stadium on Saturday 22,2023, both teams scored 225 runs in 50 overs. The match was full of controversies, Indian captain Harmanpreet Kaur hit the stump with his bat after being given out by umpire. However, Sultana questioned Harmanpreet Kaur's behavior and supported the team's decision to exit the series-end.
Bangladesh Captain said;
"It is totally her problem. I have nothing to do with it,. As a player, she could have shown better manners. I can't tell you what happened, but it didn't feel right to be there [for the photograph] with my team. It wasn't the right environment. That's why we went back. Cricket is a game of discipline and respect," she said.
According to a report, Bangladesh women's team captain Nigar Sultana spoke to BCB (Bangladesh Cricket Board) about the incident. Sultan also supported the umpire's decision and talked about the number of catches and run-outs in the Indian innings.
Sultana Said;
"The umpires wouldn't give her out if she wasn't out. We had umpires from men's international cricket, so they were good umpires. What are they [India] going to say about the caught or run-out dismissals We have respected their decisions. The umpire's decision is the final decision, whether I like it or not."
Bangladesh gave a target of 226 runs to India. Chasing 226 runs, India looked to be reeling at 160/3 their lower and middle orders did not perform well. However, Harleen Deol made 77 runs in 108 balls, Smriti Mandhana made 59 runs in 85 balls, India all out for 225 runs.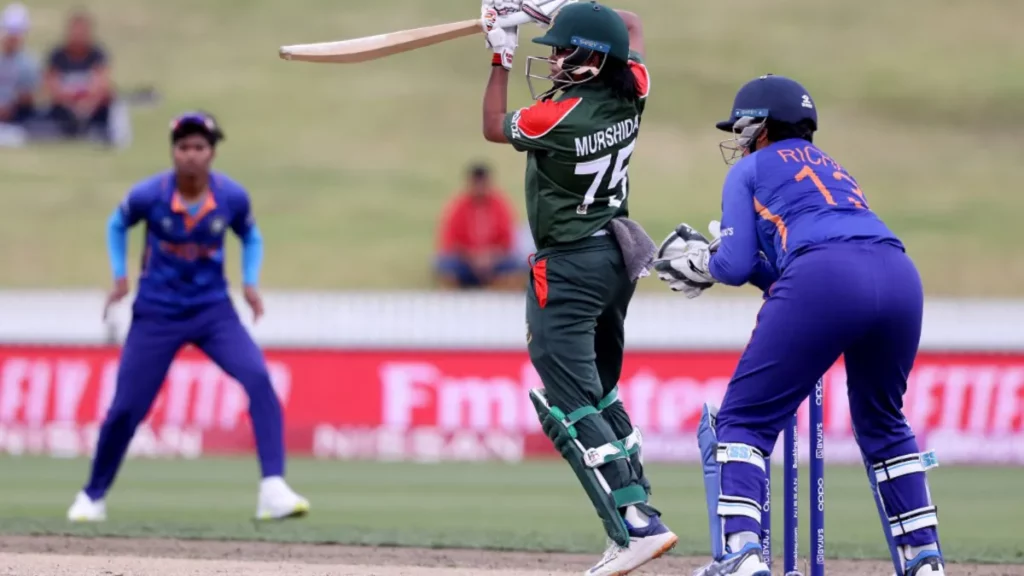 Also Read; Mukesh Kumar Took His First International Wicket in The 2nd Test Against West Indies
Mandhana defends Harmanpreet's behavior
Speaking at the post-match press conference Smiriti Mandhana defended Indian Skipper HarmanPreet Kaur behavior and said;
"When you play for India, you want to win the match, and it happens in the heat of the moment. I think she wasn't really happy with the decision given and she felt she wasn't out. That is why that came about. It is just the heat of the moment and nothing much.
"What happened in the middle is a part and parcel of the game. We've seen these incidents so much in the past as well. When you really want that 'W' on the board for India, these things happen," she added.
Mandhana also supported her captain and told about poor umpiring in the series
"It was very evident that there was not even a second thought given when the ball was hitting the pad when our batters were batting. There was not even one second of thought given before the finger went up.

"I am sure the ICC, BCB and BCCI will have more of a discussion on that and maybe we can have a neutral-umpiring system from maybe next time so that we don't sit here having these discussions and maybe we can focus more on cricket and cricket-oriented questions," Mandhana concluded.
Before the ODI series was drawn, Team India won the T20 series by 2-1.