Ashes 2023: The second Ashes Test at Lord's Cricket Ground in London commenced on a quirky note. On Wednesday, June 28, amidst the tension and excitement of the game, England's Jonny Bairstow became a part of an unexpected spectacle. The first day of play took an amusing turn as Bairstow faced an unanticipated interruption.
Suddenly, a pitch invader, belonging to an oil protestor group, stormed onto the field, disrupting the play. Amid the bewilderment, Bairstow stepped up, quickly assessing the situation. In a swift and peculiar reaction, he took it upon himself to handle the intruder, lifting him up and escorting him off the pitch.
The English wicketkeeper's response, though surprising, was also commendable. Despite the interruption, he managed to keep his cool and swiftly dealt with the situation. Following the incident, Bairstow had to return to the pavilion to change his whites, sullied in the process.
Onlookers and fans burst into applause, appreciating Bairstow's swift action. His prompt and effective reaction became the talking point among the audience. This peculiar incident etched yet another memorable moment in the history of Ashes cricket.
You may also read:
Ashes 2023: Jonny Bairstow carries a protestor during the 2nd test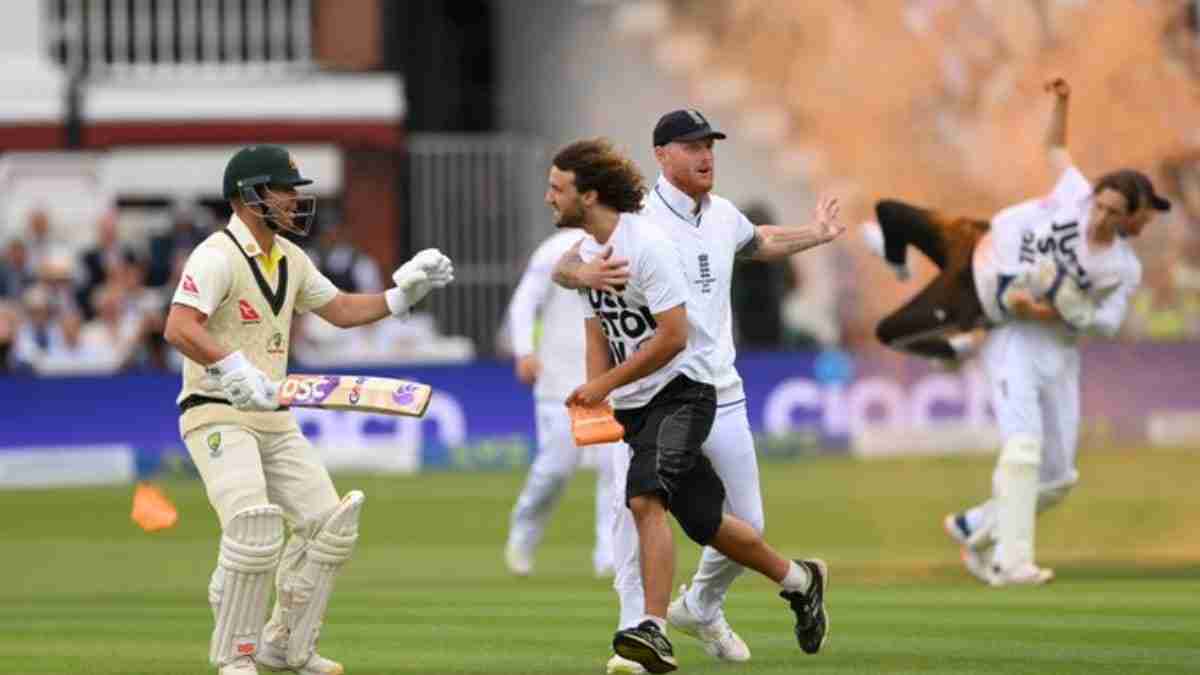 The pitch invader was part of 'Just Stop Oil,' a coalition of environmental action groups. This organization has a reputation for causing disruptions at numerous sporting events in the UK. Their interruptions are not just limited to cricket but extend to the football matches in the Premier League, the Rugby Union's Premiership final, and even the World Snooker Championship.
The incident at Lord's Cricket Ground reasserts their unconventional way of protest. Their intention to garner attention to their cause certainly bore fruit as the event became a talking point, not just among cricket fans, but also the wider public.
This incident, however unexpected, also showcased Bairstow's presence of mind. As a cricketer, dealing with a pitch invader is hardly within his purview. However, he dealt with the situation with an equanimity that earned him the audience's respect.
Jonny Bairstow carrying off a Just Stop Oil protestor like he's putting the ironing board away. #Ashes2023 pic.twitter.com/G7f5HL4RY8

— Sam Farley (@FarleyWrites) June 28, 2023
The second Ashes Test not only served up cricketing action but also an off-field spectacle. Bairstow's encounter with the pitch invader will certainly remain a unique memory in the annals of Ashes history. While 'Just Stop Oil' succeeded in their aim to gain attention, Bairstow's swift action ensured minimal disruption to the game.
As the Ashes continue, one can't help but wonder what other unexpected moments await. Cricket, after all, is as much about the unpredictable as it is about skill and strategy. For now, though, Jonny Bairstow can add 'pitch invader handler' to his cricketing resume.