Former Australian pacer Damien Fleming criticized England for batting deep in the first innings despite the possibility of rain on the fourth and fifth day of the fourth Ashes Test in Manchester. After confining Australia to an average of 317 on a quiet wicket in their first innings, England piled on the runs when it came to batting. Despite batting at a brisk 5.50 runs per over, the tourist did not declare their innings in the winning encounter and was eventually all out for 592 runs.
Unfortunately for Ben Stokes and the team, only play a total of 30 overs on the final two days due to incessant rain. This Left the English team in trouble for an innings victory with five Australian wickets within 61 runs. The draw meant the tourists retained the ashes for the third series and led 2-1 with one game remaining.
Speaking on SEN Radio.
"It didn't bother me, it's England, it rains. To be honest England had chances in that last Test. If England were truly committed to Bazball they declare earlier, they get out of there, knowing they only have a finite number of overs in what was always going to be a rain affected match," said Fleming.

"They were also only bowling 12 overs in an hour; they actually really could have pushed hard for this victory. Bazball has had this narrative where they thought they were one nil up after the first Test match and two nil up after the second," added Fleming.
The tourist team is now in danger of becoming the first team to lose a home Ashes test series since 2001. Australia was in a similar position in the 2019 Ashes as well, but England prevented that by registering victory in the Final test at the Oval.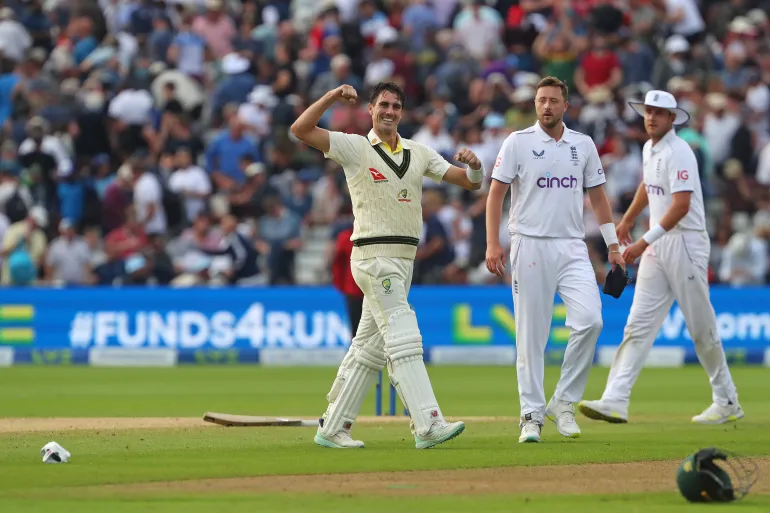 Also, Read; "Very Emotional About Anderson" – Fans Surprised as Veteran Finds Place in Playing Xi for 5th Ashes Test
"We've a chance to win 3-1" – Damien Fleming
Damian Fleming further said that if Australia could win the series 3-1, it would settle all debates over who was the better team in the Ashes Test match.
Fleming Said;
"That might be important for their group, to keep that positive message going but if you look at it in a black and white way, we won the first two Tests and we've retained the Ashes. We're a chance to win 3-1 and then there is no argument,"
Australia won the opening two tests in thrilling finishes before another defeat in the third match at Headingley. The last time in a memorable series starts at The Oval on Thursday, 27 July 2023.